Other Events
Children shake bamboo branches,
praying for the good harvest of rice.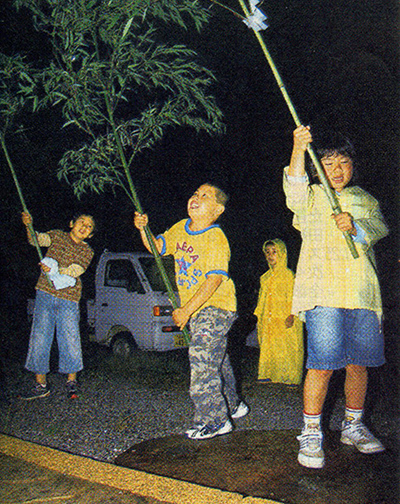 From midnight to early morning on the third Sunday in June, a traditional ceremony is held in the Obuchi area of Osuka. This ceremony is held after farmers have finished planting rice seedlings in their rice paddies, praying for a good harvest of rice. This ceremony is "Sanaburi".
At midnight on the Sunday, children of elementary school age gather in front of the community hall. They have bamboo branches in their hands. Their bamboo branches are decorated with narrow paper strips. Another child has a bong. Children visit every house in their community block one by one. In front of the house, a child strikes a gong and the other children shout, "Nennekoyaito. Hohorayaito. Nennekoyaito. Hohorayaito", shaking their bamboo branches. As they are very noisy at midnight or early morning, the inhabitant of the house has no choice but to meet them and give them some money. After they have finished visiting all the houses in their community block, they distribute the money according to their school grade. A leader can get more than 15,000 yen in this ceremony! Sanaburi was conducted only by boys, but the number of children has been decreasing in Japan, so girls take part in the ceremony nowadays. Children can't wait for Sanaburi, because going out at midnight is a kind of adventure for them and they are guaranteed to get some money. It's interesting that Sanaburi is somewhat similar to Halloween in the US.
---
Children are responsible for the festival.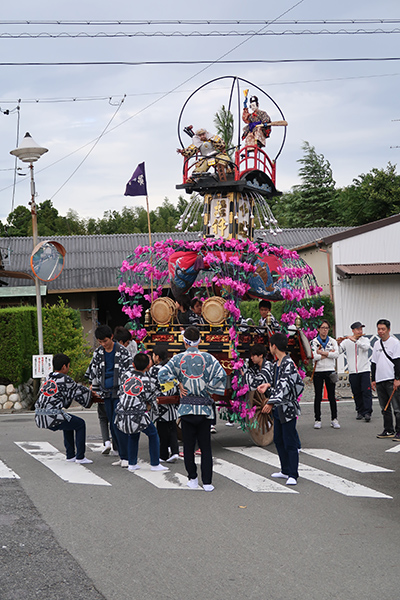 Yokosuka is famous for its spring festival, Mikumano, in April. But there is another festival in Yokosuka.: It's "Tyineri Festival". The festival is unique because it is conducted only by children, from kindergarten kids to the third grade of junior high school. They prepare for the festival by themselves, without any help from adults. Festival floats are called Neri in Yokosuka and Tyi means small. Tyineri Festival is held in the weekend of mid September. Before the festival, children are busy preparing for the festival. They decorate their festival float with flowers and practice playing festival music. Tyineri Festival was originated in the Meiji period (1868~1912). 14 festival floats parade in Yokosuka. Children haul their festival floats, shouting cheerfully, "Shita.Shita". The climax of the festival is held on Sunday night. All 14 festival floats gather in the grounds of Mikumano Shrine. As the number of the children has been decreasing, some community blocks have difficulty conducting the festival.